Treatment for acne scars is one of the most frequently asked subjects patients bring up during consultation. Acne comes and acne goes along with puberty (for most people). However, in severe cases it leaves behind marks and scars that time and/or drugstore products just cannot seem to heal. This can bring a big blow to your self esteem and make you really self conscious about your face, even though other people might say it's not such a big deal. Thanks to modern day technology, this can be significantly improved with a few procedures at a dermatology clinic.
Keep in mind that the treatments I will talk about today are for depressed (pitted) acne scars. These scars, while differing in shape and constitution, are all types of acne scars that resemble little holes or dents in the skin.
There are a number of treatments available for acne scars, which you may have already heard about, including chemical peels, dermabrasion, and so on. Naturally, our clinic also offers a variety of options that patients can choose from; but the following combination is a standard treatment that we find quite effective and pretty straightforward. What's the big secret (not really), you ask?
Fractional laser
delivers wavelengths to the skin by dividing the laser beam into thousands of treatment zones, to minimize damage to surrounding healthy tissues and to accelerate the healing process. The wavelengths can penetrate past the epidermis, meaning fractional laser can treat both the epidermis (surface) and the middle skin layer called the dermis; these teeny tiny microscopic holes are made to trigger the skin's natural response to healing and regenerating collagen. Fractional technology can be applied to a number of skin treatments; fractional CO2 laser is more ablative and aggressive, but quite effective and recommended for severely depressed acne scars.
For normal fractional laser, downtime will include some redness, possibly some flaking or dryness that lasts for up to about a week. Fractional CO2 causes more downtime; it will create tiny crusts on the skin that will require a few days to fall off. Which particular fractional laser treatment is best recommended for you will be decided after consultation with the dermatologist.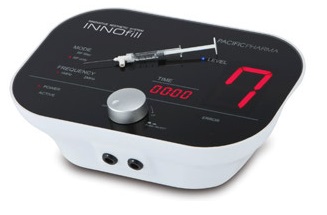 INNOfill
, contrary to fractional laser treatment, does not treat the skin from the surface, but rather from within (also known as "intradermal" treatment). A special, patented needle emits radiofrequencies from just the tip, and is inserted underneath the skin. The radiofrequencies would then trigger collagen regeneration, while the needle itself also breaks off tangled tissues that anchor the scars and give them the dented appearance.
One big advantage of INNOfill is that the downtime is not as evident as fractional laser, because it is done from inside the skin and not the surface. Patients may experience swelling for a few days and in rare cases some bruising as well. The swelling I'm talking about here isn't drastic puffiness that will make people turn their heads and wonder what the heck happened to you; it's mild and will go down in a few days.
This treatment actually has anti-aging properties and was originally used for accompanying dermal filler treatments (as the name might suggest) because the radiofrequencies also help improve skin elasticity and fine lines. However, it just so happens that the treatment is excellent for raising depressed scars as well, which is why now it is one of our clinic's favorites. It is really a versatile equipment that allows our doctors to treat a wide range of areas, and not just scars.
How often is treatment needed?
Our standard answer is at least 3 to 5 sessions, every 4 weeks. This is the number of sessions recommended for best results, as the scars will improve little by little over time. If you're just visiting Korea, and don't have enough time for such treatments, one session might still bring some improvement, though not as much as it would with regular treatments.
Contact us today for quotations and package prices!
Phone number:
+82-2-588-7525
Email:
renewmeview@gmail.com
Facebook:
www.facebook.com/rnmeskin
Line:
skin0075
Kakao Talk:
renewmeskin
​WeChat:
​rnmeskin
WhatsApp:
+82-10-9204-0075